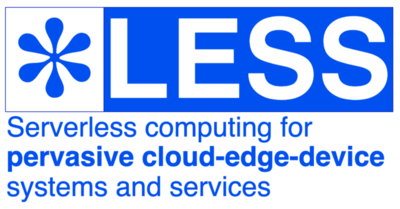 Check the report of the 2nd edition on LinkedIn
Please stay tuned for the 2024 edition of the workshop!
Intro
*LESS '23 (a.k.a. STARLESS '23) is the 2nd Workshop on Serverless computing for pervasive cloud-edge-device systems and services, co-located with IEEE Percom '23 (March 13–17, 2023, Atlanta, GA, USA). *LESS is a unique opportunity to challenge the current serverless design and platforms with issues specific to decentralized and pervasive systems, applications, and services. The workshop will help to raise the awareness on serverless and FaaS in the PerCom community and attract serverless experts from the networking, virtualization, and cloud computing scientific areas.
Important dates
Submission due:             November 28, 2022 [PAST]
Notification of acceptance: January  15, 2023 [PAST]
Camera ready due:           January  30, 2023 [PAST]
Workshop date:              March    13, 2023 [PAST]

Organisers
External resources
Relevant special issues
IEEE Communications Magazine: Serverless Mobile Computing: From Theory to Practice [website, submission] – Deadline: Apr 30, 2023 (firm)
Elsevier Future Generation Computer Systems: Serverless Computing for Next-generation Application Development [website, journal, submission] – Deadline: Jun 30, 2023
News
subscribe via RSS